Steel Security Personnel Pedestrian Door - Industrial Grade Exterior Outdoor Security Door for Garage, Warehouse, Shed, Industrial Unit, Lockup, Shed, Shipping Container, Farm Barn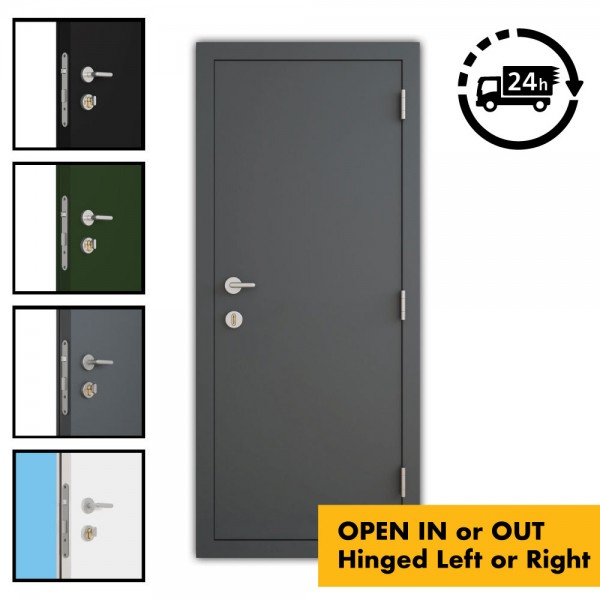 PLEASE NOTE - THIS IS ONE STANDARD SIZED 840mm x 2035mm - WE WHOLESALE STANDARD DOORS AND DO NOT MAKE THEM TO ORDER/CUSTOM SIZE

Steel security door for outdoor/exterior use - industrial-grade personnel door is the ideal Security Door for Garage, Warehouse, Shed, Industrial Unit, Shipping Container, Farm Barn - can be primed & painted any colour yourself) complete with outer frame, & optional stainless steel door handle & lock with internal thumb turn & 3 sets of keys, single point locking mechanism). OPTIONAL POWDER COATED COLOURS (AT EXTRA COST)
- RAL 9003 WHITE (painted both sides in/out)
- RAL 6017 ANTHRACITE GREY (painted both sides in/out)
- RAL 9005 JET BLACK (painted both sides in/out)
- RAL 6007 JUNIPER GREEN (painted both sides in/out)
DOWNLOAD PDF TECHNICAL DRAWING / DIMENSIONS
DOWNLOAD INSTALLATION INSTRUCTIONS / MANUAL

840mm x 2035mm outer dimensions ie. to fit 840mm x 2035mm cut out (clear opening 750mm) - door frame thickness 90mm / door leaf thickness 45mm. Actual Door Size: 1943mm x 750mm - comes hung in frame and fixing points located around the frame for easy install with the correct screws/fixings (not supplied) into brick, timber, steel or other building material. We recommend adding 5-10mm to the external size about for fitting which can be filled with foam / silicone.
Comes with vanity flush fit trim outer frame 1 side only pre-fitted - overall size 905mm x 2090mm. Optional add on from the drop down 1 x removable vanity cover surround trim to cover / hide any gaps / joins on the other side of the door dimensions 900mm x 2090mm
WE STOCK ALL: CONFIGURATIONS OF DOOR OPENING INWARDS OR OUTWARDS, AS VIEWED FROM OUTSIDE- Doors can be fitted with hinges either on the left or the right hand as viewed from outside by rotating the pre-latch mechanism,- SEE IMAGE FOR FURTHER DETAILS ON CONFIGURATIONS WHEN SELECTING YOUR VARIATION OF DOOR AS INCORRECT ORDERS/RETURNS MUST BE RETURNED AT BUYERS COST. IF IN DOUBT PLEASE ASK.
| | |
| --- | --- |
| Door Frame Material | 1.4mm Galvanised Steel |
| Door Frame Thickness | 90mm |
| Door Leaf Material | Double skinned 0.8mm galvanised steel |
| Door Leaf Thickness | 45mm |
| Door Leaf Core | Honeycomb core |
| Actual Door Size | 1943mm x 750mm |
| U Value | 2.6 |
| Acoustic Value | 32dBa |
| Hinges | 3 Stainless steel ball bearing hinges |
NOTE: due to manufacturing tolerances with regards to batch variation, we recommend ordering all coloured/powder coated doors for a project at the same time, from the same batch as we cannot be held responsible for any variation that occurs between batches.
Must be installed by a competent persons, we are not able to train, teach any DIY enthusiast how to fit a door correctly. Whilst its not a difficult job, each individuals competency and skill set varies and thus professional knowledge is advised to fit this product correctly, safely and securely for normal operation.
Note - door includes mechanical / moving parts such as lock mechanism, hinges, latches and as such requires regular maintenance and upkeep ion the form of regular lubrication/oil applying.